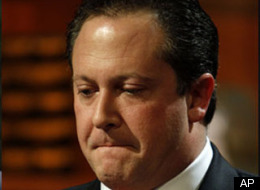 (Updated with YouTube video below)
One of the big non-
Super Bowl
buzzes yesterday was the suggestion that
New York
governor
David Paterson
was going to resign
, because of a sex-related scandal, which the
New York Times
was set to reveal today,
only Paterson denied he was resigning
, he met with the NY state Democratic caucus in a closed-door session to tell them he wasn't resigning or something like that, and no
Times
article appeared. My thought was, if the man did not commit a crime and his actions involved his private life, why should anyone care? Evidently some in the media are still hot and bothered by, as the British wonderfully call them, "sex romps" and
"sex rows," but given all the other crises this country faces, and the Woods/Sanford/Ensign/Spitzer/Craig, etc. scandals, does anyone really care about Paterson's love life or who he shtups, especially if his wife doesn't? At least for now, no, it seems, and so Love Gov #2 will remain in office, until he loses his primary to
Andrew Cuomo
, and heads off for fun and assignations in the sunset.
But--New York has nothing on
Illinois
. As I told C today, yesterday, political theater unfolded in a Chicago bar during the Super Bowl half-time when Illinois's newly elected
Democratic nominee for Lieutenant Governor
,
Scott Lee Cohen offered his "resignation"
--let me stop there, and repeat, "nominee" for Lt. Gov.--by which I mean, he was dropping out of the race, leaving his slot open for the Democratic gubernatorial nominee, current governor
Pat Quinn
, to replace him. Quinn had replaced the impeached
Rod Blagojevich
, aka Blago, who tried to sell
Barack Obama
's former Senate seat to the highest bidder. Blago, remember, was elected twice after the departure of
George Ryan
, who is now in jail on multiple corruption charges.
Now, you may ask, why did Scott Lee Cohen, who was only selected for his candidate slot by voters over several different party-annointed hacks a few weeks ago, decide to "resign"? Why was he in tears, at the Hop Haus bar, with his family around him and son lying in his lap, announcing in the midst of the 44th Super Bowl, that for the good of the "people of Illinois" and the "Democratic Party," that he was stepping down? Why did most of the Congressional Democrats, and many other party brokers, want this millionaire pawnbroker (I'm not making this up), to remove himself so as not to sink Quinn's chances in the general election (against who knows which Republican, since that race has still not been declared)?
Chicago Sun-Times
,
take it away
:
Over the past year, my husband has been taking injectable anabolic steroids, including but not limited to Winstrol, Cretine, and Steen. And as a result, he has an erratic, explosive temper," she alleged.
Okay, a little roiding going on. Not illegal. But uh oh:
The court documents alleged that Cohen tried to force his ex-wife to have sex with him.
"On May 9, 2005, after having confessed to several affairs he had, he tried to have sex with me, and despite my refusals, he tried to force himself on me until I pushed him away and emphatically told him no," his ex-wife alleged. "In fact, I had been having family members, including my mom and sister, stay with me for the past several weeks because I'm afraid to be home alone with him."
Five days earlier, Cohen "came home around 2 a.m., and he could not find his keys to the house. He called the house, but no one answered because we were all sleeping, so he kicked in the garage door disturbing everyone in the house," she said.
Okay, that's horrendous. But it gets worse, because this was the initial knock against Mr. Cohen:
Earlier today, Quinn said that if Cohen can't adequately explain charges against him revealed Wednesday — that Cohen allegedly held a knife to the throat of a prostitute ex-girlfriend.
Say what?

Last week, Cohen publicly called for [ex-girlfriend] Eneman to come forward to discuss his Oct. 14, 2005 arrest. A police report from the incident shows she accused him of placing a knife up to her neck and pushing her head against a wall, causing scars and a bump on her head. The charges were later dropped when Eneman failed to show up to a court hearing.
You get the picture. So Cohen's out, and now some other not impressive person, I imagine, will get his nomination. I know I sound like a broken record when I ask this question, but how is it that in a state of 12.9 million people--the
fifth
most populous US state--with one of the major intellectual hubs in the country and world, Chicago, and its suburbs, these are the people who end up winning elections and standing to represent the people at the local, state and national levels? I used to ask this about New York, and New Jersey, and in past years, when I lived in Virginia, Missouri, and Massachusetts, about those states too. I guess we do end up with the politicians we deserve, but as the Cohen election, and subsequent withdrawal shows, deserving or not, we're dealing with a system that's close to broken, if not already so, and it should give pause to
anyone
who sees fit to comment negatively on "democracy," particularly by using the US as a standard, anywhere else in the world.
Update: The
New York Times's Lede enters the mix with an informative writeup
. My thanks to them for the link to the YouTube video below, which is...priceless.
°°°
I've mentioned that the students in one of my classes are tweeting links to great articles on publishing, and I can see they're gathering followers, but if you aren't on Twitter, here are some of the recent links they've culled. Enjoy!
One online publisher's take on authors and the digital world.
http://www.staythirstymedia.com/bookpublishing/index.html
Article on group v. individual reading experience and how social networking fits into the reading experience
http://tinyurl.com/ybt7noa
Printing your e-book? That's a deal breaker.
http://tinyurl.com/y9spng3
Review of Azar Nafisi: "She doesn't presume to provide rounded psychological portraits of her students." (or does she?)
http://bit.ly/4DrHco
VR
Hamid Dabashi article trashing Nafisi's book. He's an Iranian Professor at Columbia who is her main critic.
http://bit.ly/bZTex2
--JN
Twitter: The death of tween blogging?
http://scneilson.com/test/blogging-long-winded-and-so-last-year-for-us-teenagers-says-study-3/
AK
An interview w/ azar nafisi. heard her speak last fall and she was great:
http://www.npr.org/templates/story/story.php?storyId=1391487
MW
And some DFW FTW -
http://www.youtube.com/watch?v=iP9TWD5QaRY
- this and the last being SW
Great tool for creating further nonsense
http://www.crummy.com/software/eater/eater.cgi
see example:
http://bit.ly/bErRoI
3:17 AM
TWITTER AUTHORS ACCIDENTAL POETRY WITH FEW CHARACTERS
http://www.nytimes.com/2010/01/31/magazine/31FOB-onlanguage-t.html
- SW
Notes from Gordon Lish's seminars.
http://bit.ly/9nFMri
JH 12:09 AM
Don't need to sell books to be a best-selling author:
http://www.nytimes.com/2010/01/23/books/23kindle.html
JAB 11:53 AM
Bask in the splendor of visual data.
http://xkcd.com/657/
-dre
Interesting letter from Salinger about movie rights to "Catcher":
http://tinyurl.com/yjuxqwm
JAB
Loss of one of lit's most fascinating recluses; RIP J.D. Salinger:
http://tinyurl.com/y8rhftx
Apple to write the future of publishing with its new tablet?
http://tinyurl.com/yjujab7
- AM
how can you discuss widows' and artists' rights without thinking of these two?
http://techdirt.com/articles/20090910/1713046154.shtml