We're back safe and sound from a wonderful trip. I want to give shout outs to
Anthony, Bernard, Ruskin, Scotch & Byron, Bettye, Judy, Kenny, César, Wendell, Maripoli, David, Gerardo, Jerry, Miguel, Miguel Ángel, Amauri, Aneudy, Miguel, Michael, Ramón, Arturo, Juan-Daniel, Daniel, Manny, Carlos, Chino, Chachita
, and all our other wonderful friends and acquaintances.
Thanks for a great time!
***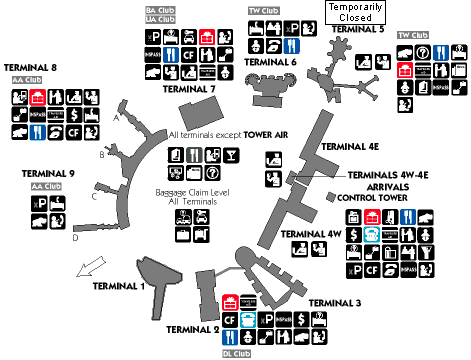 Mini-rant: About 15 years ago, I reached a conclusion that has only strengthened since then:
New York City
's
John F. Kennedy International Airport
is the absolute worst airport ever. It's the worst I've ever had to fly into or out of, by every measure. The worst. In fact, it should be shut down completely until the Port Authority of New York and New Jersey, the State of New York, the City of New York, and the MTA can completely reconfigure it and all the roads leading to and through it so that it's not such an utter transportation nightmare. (The resultant air traffic flightmare would, of course, be a huge problem.) I have previously spoken ill of
O'Hare
,
Chicago
's major airport (the other one being
Midway
, which distinguished itself by having an airplane run off the runway and crash into traffic, injuring more than a dozen people and killing a child). I also am no great fan of New York's
LaGuardia
, or Washington's
Dulles
airport, which is actually miles away from Washington, DC, or
Miami International
, which always appears to be "under construction" and has some of the ugliest interiors known to humankind. I haven't flown into or out of that many foreign airports, but all of them (whether in Britain, Canada, Brazil, or elsewhere) all are easier to get to, get around, and leave than JFK. It's confusingly vast and feels thrown together, has no comprehensible system of roadways, is grossly expensive to park at (and don't use Avistar, which instead of being cheaper than long-term parking, is
more
expensive, was far more difficult to find, and took forever to pick us up), is full of preoccupied, surly employees* (except the custom officials, oddly enough!), and always leaves me saying, "I'm never going to fly out of here again!" By comparison, O'Horror is like
Six Flags
.
(It didn't help that we flew on
American Airlines
, which has gone from being a premiere carrier to something approaching a semi-defunct bus line. The plane for the initial leg of our trip was incredibly filthy, with garbage and crumbs strewn everywhere, and on our return, we had to pay extortion fees to ship an "oversized" parcel. In addition, though the plane was half empty, they refused to do upgrades, and admitted, once we were in the air that despite the fact that most of the flyers were native Spanish speakers, the movie was only in English and French. The meal--can you believe there was a meal?--wasn't bad, though. When I have to fly this airline from Chicago to Newark, I always cringe, because I know that the flight is always going to overbooked and that there'll be at least 2-3 people looking panicked because they've been bumped or can't get a standby under any circumstances. American, please get it together!)
Since JFK is such an awful airport, I think some smart Republican should propose that instead of dishonoring our 35th president by attaching his name to it, New York City rename it in favor of the worst president ever, that is, the one currently in office, until it's fixed. Then the US can rename the former
Washington National Airport
, which is now
Washington Reagan
, after Kennedy, and be done with it. Reagan's name can grace the airport that may go up in the cornfields of
Peotone, Illinois
, if Congressman
Jesse Jackson Jr.
has his way and Mayor
Richard Daley
doesn't. Reagan was from downstate Illinois anyway, wasn't he?
***
One of the books I picked up while away was a posthumous double collection,
El West End Bar y Otros Poemas & Volutas de Invierno
(Ediciones Ferilibro, 2005) by
Carlos Rodríguez
(photo at right), a Dominican native (b. 1951) who lived in the US for many years and published only one volume of poems, the award-winning
El ojo y otras clasificaciones de la magia
(1995) before his early death in 2001.
Here's one of the shorter poems I translated the other day from his heretofore unpublished second collection,
Volutas de Invierno
(
Winter Volutions
). Does anyone know if any English-language volumes of Rodríguez's poems have been published? Has anyone translated his work before? From what I've found on the Web, it appears some of the poems may have appeared in a. It also appears that a
Biblioteca Carlos Rodríguez
was reinaugurated this past November on New York's Upper West Side.
BAR
I offer a little wine to my companion
at the table.
Benny Goodman makes his entrance.
The jazz, the glasses tinkle the night.
There are no clocks, no neural delays,
only an image, piano keys, erotic riffs
explode in chords that we, settled in, are listening to.
We're the ear and the drunken rapture.
Partners embrace and kiss each other, you, he…
I search in the fainting spell of my hands and celebrate quietly
from every which angle.
I lift my cup and toast the gods of wine
(understanding such an atmosphere's utter desolation).
The original:
BAR
Ofrezco un poco vino al compañero
de la mesa.
Benny Goodman hace su entrada.
El jazz, las copas picotean la noche.
No hay relojes, esperas en nervio,
solo imagen, teclas, un escala erotica
estalla en acordes que sentados escuchamos.
Somos el oído y la embriaguez.
La parejas se abrazan y se besan, tú, él…
Yo busco en el vahído de mis manos y celebro quedo
desde un ángulo cualquiera.
Levanto mi copa y brindo por los dioses del vino
(entiendo la desolación del tal atmósfera).
Copyright © Carlos Rodríguez, 2005.
Any suggestions are welcome! (Thanks,
Kai
from NYC!)