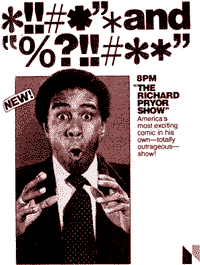 Perhaps other readers of this blog had a similar experience, but one of the things I remember vividly from childhood was when my parents would have friends over for a little get-together or to play cards, and they'd put
Richard Pryor
records on between R&B albums. Although we kids regularly heard adults cursing and knew the rough outlines of sex (or at least what it was), we usually were supposed to upstairs in bed, or at least in our rooms (especially if cousins came over) when the Richard Pryor record came on. But since the adults were downstairs having a good time, nobody was really watching us. When Richard Pryor's voice, as the preacher or the drunk or just as Pryor himself, would start booming from the stereo, we'd perch at the top of stairs, making sure we couldn't be seen, and then listen, laughing even at stuff we didn't fully understand. The adults would laughing so hard they'd be in tears.
In particular I recall overhearing Pryor's
This Nigger's Crazy
and
....Is it Something I Said?
, and
Bicentennial Nigger
. If it wasn't at my parents house, then we'd listen to them at my godparents' or aunt's house. More than Pryor's use of the "n" word, which I always thought he pronounced like someone who wasn't
from the city
, was his use of "motherfucker"; the epithet rolled off his tongue like a praiseword, though with that same Peoria flavor (or flava). In fact, that was one of the reasons Richard Pryor was also a big deal. He was sort of a local person, coming from Illinois, which was just across the river (though Peoria is closer to Chicago than St. Louis). It was also a huge deal when he went to Africa (as many black celebrities were), especially after Alex Haley's novel and the subsequent miniseries versions of
Roots
came out and really got many Black people thinking again about their ancestry and African heritage, and said he wasn't going to use the "n" word anymore. Not that that stopped any number of other comics or anybody else.
Alongside the "dirty" Richard Pryor, as some people labeled the comedy albums, there was the Richard Pryor who appeared in moves like
Lady Sings the Blues
,
The Mack
,
Uptown Saturday Night
(a movie that's lost none of its hilarity),
Silver Streak
(which also had
Gene Wilder
in a marvelously comical role),
Car Wash
,
Which Way Is Up?
, and
The Bingo Long Traveling All-Stars & Motor Kings
(starring the pretty
Billy Dee Williams
). He was also in
California Suite
, one of Neil Simon's less inspired ensemble pieces, which
Maggie Smith
turns out, though Richard Pryor's performance, as one of the two bickering black couples from Chicago, is memorable. Last, but not least, he also appeared in movie version of the musical
The Wiz
, which was one of the entertainment events of that year. (I like it much more now than I did then.) I barely remember his TV show, which lasted for only four shows, but then I was too transfixed by
Laverne and Shirley
and
Happy Days
, which were its direct competition.
When he nearly torched himself freebasing in 1980, I remember praying that he'd be okay. I also remember getting a little lecture from my parents about how this was one likely outcome of drug use--and also a reminder of how people with so much going for them could sometimes self-destruct, throw it all away, letting their livelihoods and successes and lives, even, literally go up in smoke. Pryor did return to the stage and screen after he recovered, starring in his
Live on the Sunset Strip
documentary as well as more films with Gene Wilder, and even made an autobiographical movie,
Jo-Jo Dancer, This Is Your Life
, about his personal experiences. But it seemed he never fully recovered, and by 1986, he announced he'd been diagnosed with MS. Pryor actually continued to act in films well into the mid-1990s, including a small role in David Lynch's bizarre
The Lost Highway
, but his last recorded stage album came out in in 1983.
Now that I'm older I realize what a pioneering talent and role model he was. His comedy, which initially was closer to that of another pioneer,
Bill Cosby,
took a turn in the late 1960s, and, like predecessors such as
Moms Mabley, Lenny Bruce,
Dick Gregory
, opened up a vista of possibilities for addressing issue of race, sex, class, and politics. Often holding himself up to ridicule, never shying away from the most painful and ridiculous aspects of life, particularly Black life under racism, speaking directly in the language of the street, Richard Pryor could make you laugh your drawers off. Nothing was sacred with and for him. His influence is evident in a wide range of comedians who've followed him, including
Eddie Murphy
,
Chris Rock
,
Sinbad
,
Sandra Bernhardt
,
Margaret Cho
,
George Lopez
,
Eddie Griffin, Dave Chappelle
, most of the comedians on
BET's

Comic View
, and many others. I can only see his influence continuing, given the state of the world and society we live in; we need humor like his, deeply personal and profoundly humane, but also unsurpassingly raw, vernacular humor--without laughter, especially the kind of laughter he drew so often out of us, how could we possibly keep on going some of the time?
Richard Pryor died yesterday of a heart attack, supposedly with a smile on his face. He was 65 years old.
‡‡‡
I also want to note the passing of two other major figures, former Minnesota Democratic Senator
Eugene McCarthy
, who in
1968
ran as the anti-war candidate in the New Hampshire primary and whose 42% second-place finish effected incumbent Lyndon Johnson's withdrawal from the presidential race, and
Roger Shattuck
, the prolific and polymathic scholar, whose landmark study
The Banquet Years
was and remains a touchstone in my education on the arts of the early 20th century.
In his later years McCarthy, who eventually lost the primary momentum to
Robert F. Kennedy
, and then the nomination to Vice President (and former fellow Minnesota Senator)
Hubert H. Humphrey,
continued to serve as a contrarian, running repeatedly for the presidency yet slamming the two-party system, and going so far as to support
Ronald Raygun
over
Jimmy Carter
in 1980. Despite his political progressiveness (he had supported integration while a professor at the University of Texas in the 1960s), Shattuck's ideological opposition to the new French theoretical avant-garde (
DeMan, Derrida, Althusser, Foucault, Deleuze, Lacan,
etc.) in the 1970s led him to help establish the conservative Association of Literary Scholars and Critics and to dismiss some very valid scholarship that was, in its own way, in conversation with his.
McCarthy, however, remains the emblem of a particular historical and political moment; though
Richard Nixon
went on to win in 1968 and with Henry Kissinger extended the war 7 more years, bombing Cambodia and Laos and contributing to the death of 25,000 servicepeople, I cannot forget the Minnesota Senator's courage in challenging the sitting president, from his own party, the profound political statement, if ultimately ineffective at the time, that he engraved upon his time. Shattuck's genius, despite his later conservatism, was to open up new understandings, through truly comparative readings, history, biography, and analysis, of the turn of the century experimentalists who've since become canonical--as have the theorists he abhorred.
Satie
,
Jarry
,
Apollinaire, Proust
, and the other subjects of his studies, including
Sade
, whom he argued might have gone too far--and this was the theme of one of Elizabeth Costello's latter essay-stories in
Coetzee
's brilliant, eponymous novel--could have done worse than have Shattuck's critiques bring what was fresh and innovative in French and European Belle Époque artistic culture not only to fellow scholars, but to several generations of students, among them many artists who've taken the examples to heart.
McCarthy, who passed away in Washington, DC, was 89. Shattuck, who died in Vermont, was 82.