It was to be a brief post, but...: This week marks the 456th birthday of one of my favorite cities, São Salvador da Bahia dos Todos os Santos (The Holy Savior of All Saint's Bay). Salvador, also known as Bahia, was the first capital of Brazil (from 1549 to 1763), making it the religious, political and social brain and heart of the early Portuguese colony, a fact reflected in its architectural patrimony, which includes more than 300 churches, including Brazil's first cathedral, which is still standing. Salvador was also the chief Brazilian port through which
enslaved Africans passed for three centuries, which indelibly stamped and shaped the city, the surrounding state of Bahia, and most of the northeastern region. Although Rio de Janeiro, Recife-Olinda, and Belém do Pará were also major Brazilian slave transit points,

more than 1.3 million

Africans passed through Salvador alone, or more than all the slaves brought to the United States during our own unofficial and official periods of African slavery and servitude (1619-1865).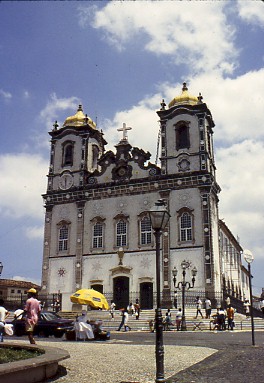 Salvador's world famous musical and dance traditions (samba, afoxé, forró, etc.), cuisine (particularly the spicy, dendê-based dishes), martial arts (capoeira), and spiritual-religious traditions (most notably Candomblé), to name a few, result from this heritage, and a contemporary visitor to Salvador can find all of them thriving throughout the Bahian capital. But these are not just historical artifacts or traces; a tourist in Bahia will also notice quickly what Brazil's census has quantified: the city and state have the largest percentage of self-identified black or mixed people in the country, and the Afro-Brazilian cultural traditions are thoroughly woven into the fabric of Bahian life, from the

Baianas

, in their headwraps and white and multicolored petticoats, to its park (O Parque Dique de Tororó) with giant statues of the Candomblé Orixás to the black-saint filled Igreja da Nossa Senhora do Rosario dos Homens Pretos do Pelourinho (the Church of Our Lady of the Rosary of Black Men of the Pelourinho) to its Carnaval celebration, one of the three most important ones in Brazil (along with Rio's and Recife's). The cultural and spiritual vibes, the links to an African past (Yoruba, Congolese, etc.) that still lives in the present, I can attest, are palpable, and I know several black Americans whose lives were changed forever after stays there.
Today, Salvador is the third most populous city in Brazil (after São Paulo and Rio), and has cemented its position as one of Brazil's major cultural capitals. It remains the birthplace or home of numerous internationally reknowned musicians and musical groups, such as Brazil's minister of culture, Gilberto Gil, his former bandmate Caetano Veloso and Veloso's sister, Maria Bethânia; the blocos afros Olodum, Ilê Aiyê, Muzenza, and Ara Ketu; the group Timbalada, led by Carlinhos Brown, Margareth Menezes, and so many others. C. and I saw Olodum live in 2000, right in the outdoor square, the Terreiro de Jesús. Many of Salvador's and Bahia's native musicians frequently perform in and around the city, and Veloso supposedly appears from time to time right on the Barra, Ondina and Pituba beaches.

Salvador draws so many tourists that the Brazilian and Bahian governments decided, in the 1990s, to invest money in rehabilitating and restoring large sections of historic core, especially the Pelourinho ("[little] pillory" in Portuguese), returning much of the original beauty to the area without Disneyfying or destroying it. It was also the longtime home of one of Brazil's most famous and prolific writers, Jorge Amado (a native of the southern Bahian city of Itabuna, and author of the masterpieces

Gabriela, Clove and Cinnamon

and

Dona Flor, and Her Two Husbands

), and the Fundação Casa Jorge de Amado is located right in the center of the Pelourinho. One sight not to be missed is the barococo, ultragilt interior of the São Francisco church, with its sexualized caryatids and carvings, and in its adjoining convent, the scary room of saints (I was transfixed), the upstairs room with its bleeding Jesus (ropes of velvet--it has to be seen), or the ossuary crypt in the basement.
Other areas in the city, such as Lower City (

Cidade Baixa

, the commercial district where the city's port, its Mercado Modelo, and the famous Bunda ("Booty") sculpture are all located), and the Barra (where we stayed), Dois de Julio, Campo Grande, Liberdade, Saúde, Pituba, Ondina, Rio Vermelho, and Itapoã neighborhoods all offer a lot to see and explore as well. In addition, Salvador is the best starting off point for boat tours of the nearby bay islands (giant Itaparica, and the islets of dos Frades and da Maré); the cross-bay Valença party town of Morro de São Paulo; the interior, former sugar-growing regions of the Recôncavo, or the northern beaches along the Linha Verde (Green Line), some of which have become increasingly commercialized (like the Costa do Sauípe).

Salvador also is home to the oldest gay group in Brazil, Grupo Gay da Bahia, which has transformed the conservative city into a cynosure of pro-gay legislation and activism.

Neither Brazil nor the Bahian state government have been able to remedy the endemic problem of (local) poverty. While the city doesn't experience anywhere near the levels of violent crime of Rio or São Paulo, the class and racial divisions, which show themselves in economic, social and political divisions and disparities, are evident.
I have read that the employment situation over the last few years has slightly improved (though perhaps nowhere near as well as many had hoped when the Worker's Party candidate Lula da Silva assumed the presidency), and in terms of the street children,
several local and international groups actively raise money on their behalf (the colored

fitas do bomfim

that many visitors to Salvador bring back are part of this effort).
I'm not sure when I'm going to be able to get back to Salvador, but I hope it's soon. Until then, I'm wishing the city and its people a
Feliz Aniversario
! Salvador wears its more than four centuries of history and tradition remarkably well!
***
I also want to acknowledge the passing of

Johnnie L. Cochran, Jr.

(1937-2005), who died after a two-year battle with brain cancer. Though he'll forever be associated with his successful defense of O.J. Simpson in that infamous 1995 criminal trial, he also won many other important cases, particularly in the area of civil rights. He won numerous judgments against the Los Angeles city government and LAPD, beginning in the 1970s, usually for non-celebrity clients. Later, he won a judgment on behalf of torture victim Abner Louima in his lawsuit against the NYPD, and he eventually avenged the 1972 prosecution of Black Panther Elmer "Geronimo" Pratt by gaining a reversal in 1997. He also got Sean "P.Diddy" Combs acquitted of gun possession charges. One other really interesting aspect of his career is that, as a deputy city attorney for Los Angeles in the early 1960s (he had been the first black law clerk in that office), he prosecuted Lenny Bruce on criminal obscenity charges, which were later overturned on First Amendment grounds. A remarkable lawyer, person, and race man (in WEB DuBois's and Hazel Carby's senses of the term), by any measure, and one of the major defenders not only of the already powerful, but, throughout his career, of those at the bottom of society as well.