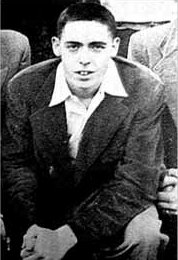 Thomas Pynchon
(1937-, at left, in his youth, from Trashotron.com) may be the most famous publicity-averse writer in the world, matched perhaps only by
J.D. Salinger
(1919-). But while Salinger's strange, hermetic bubble has been pierced several times, by writer
Joyce Maynard
in her tell-all 1972
Time
article and subsequent 1999 memoir, and by his daughter
Margaret
's illuminating, corrective 1999 account, and while Salinger hasn't published (as far as anyone knows) a book or any short fiction since 1965 (nor given an interview since 1974), Pynchon's private life since his mid-1960s seclusion remains mostly a mystery for the reading public, his Cornell friend
Jules Siegel
's
Playboy
article notwithstanding, but he has published several acclaimed novels since then, including one of the greatest novels in the English language,
Gravity's Rainbow
(1973), as well as the widely panned
Vineland
(1990) and
Mason & Dixon
(1997). Because of the absence of any information or publicity about Pynchon and the rarity of publications, announcements of a new book have tended to stir up a hullabaloo, send fans and the media into overdrive.
So it is with his new novel: this past Wednesday on
Slate
,
Troy Patterson
created a hubbub
by writing about a synopsis
of a 992-page work of fiction, titled
Untitled Pynchon Novel,
that appeared on Amazon.com's Website.
Literary
bloggers
and
the media
had already begun spreading the news about the book last month.
The Amazon synopsis
not only bore all the hallmarks of Pynchon's style, but carried his byline as well. Real, or a hoax? Patterson initially wrote that the publicity chief of the book's publisher
Penguin
"disavow[ed]" all knowledge of the writeup's authorship, and added that Amazon.com hadn't sorted out what its response would be and that, unsurprisingly, Pynchon wasn't returning Patterson's phone call. The next day, however, Patterson
posted a clarification
. The blurb
was
Pynchon's handiwork after all, according to Penguin, which, Patterson corrected, did
not
disclaim the post. What a great bit of PR! The novel is entitled
Against the Day
, and spans the period between the Chicago Exposition of 1893 and the end of the First World War. One of its central characters may or may not be based on the mathematician
Sofia Kovalevskaya
; the former German culture minister,
Michael Naumann
, alleged he'd assisted Pynchon in conducting research on her. Did Pynchon just call him up? When people work with Pynchon, do they sign non-disclosure and non-photography agreements? Penguin supposedly will be publishing the new novel in December of this year. I hope it's more
Gravity's Rainbow
and
The Crying of Lot 49
than
Vineland
. (I haven't read
Mason & Dixon
...there are only so many hours in the day....)