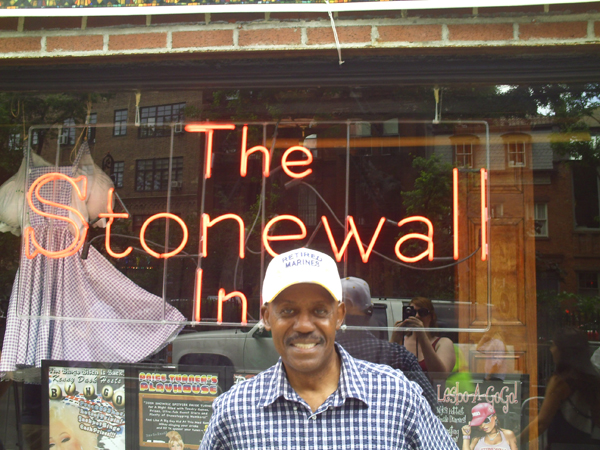 What a day! First, it's
Stonewall Day
; on June 28, 1969, the multi-day uprising in
New York
's
Greenwich Village
that marked a turning point in the burgeoning gay rights movement began. In today's
Huffington Post
,
Scott G. Brown
, one of the oldest surviving veteran of the event, offers some thoughts on what happened and guides readers toward his memoir,
Confessions and Diaries of a New York Veteran of the Greenwich Village Stonewall Inn Raid of June 28, 1969: Souvenirs
. I have not read it but I intend to. Scott is black and gay, and approvingly quotes
Edmund White
's delightful memoir
City Boy: My Life in New York During the 1960s and 1970s
, to underline the reality of that landmark event: "And it wasn't all those crew-neck white boys in The Hamptons and The Pines who changed things, but rather the black kids and Puerto Rican transvestites who came down to the Village on the Subway, the 'A-Trainers,' who made the difference!" As the children would say, "Yes, ma'am huntee!" Happy Stonewall Uprising Day, and do seek out Mr. Brown's book if you're so motivated.
***
Reggie H. (overjoyed)
I often mention Mr.
Reggie H
. on here, as he is a dear friend and brother/brotha writer and the only human being I know who is on top of everything. He is. He knows all kinds of things, intellectual, political, gossipy and otherwise, can be bitingly funny, but rarely if ever says a bad thing about anyone. He reps for
Baltimore
and
Maryland
(a state in which we have ancestors in common, his more recent than mine.) He also does his thing at
Poets House
, blogs at
Noctuary
, keeps lots of poets on their toes, advocates for and works with some of our societies most vital people,
librarians
, and listens politely to all my BS. He even comments on this blog from time to time (thank you!). And
Mr. Reginald Harris Jr. is now the winner of the 2012 Cave Canem Northwestern University Press Second Book Prize!
His first, moving book
10 Tongues
(Three Conditions Press, 2003) is one I urge you to familiarize yourself with; his second, titled
Autogeography
, is forthcoming next year, and on his blog he features one of the poems from it, about which I will say only that when I first saw it, I thought: "He's got it--down." He does. And will soon have a new, wonderful book of poems to show for it. Congratulations, Reggie!
***
President Obama
(thinking: "Whoo,
these Repubs
are going to
be salty tonight!")


As the morning unfolded and I was preparing the final stages of clearing out my apartment and waiting for
UPS
to come collect more boxes--which did not happen well into the sweltering evening here in
Chicago
--I heard the news that the
United States Supreme Court
had voted 5-4 to uphold the
Affordable Care Act
, the Rube Goldberg-style, neoliberal, Heritage Foundation-birthed insurance reform program that became the signature piece of legislation President
Barack Obama
and the Congressional
Democrats
passed during the last 4 years. Faulty as the legislation is, it possesses many major benefits for a large swath of Americans, and will result in an increasing push towards universal care in a way not foreseeable before its passage. I am not a lawyer so I cannot ascertain all the angles on the majority opinion, which conservative Chief Justice
John Roberts Jr.
wrote, but it appears that he originally was going to side with the other four right-wing justices (
Antonin Scalia
, who gave a Scalimbaughish rant the other day in his dissent against the striking down of 3 of 4 provisions of
Arizona
's draconian anti-immigrant law, SB 1070;
Clarence Thomas
;
Samuel Alito
; and
Anthony Kennedy
, often though to be a "swing vote") who deemed the law "invalid."
Instead, having declared unworkable the argument that the Commerce Clause gives the government the power to impose the Affordable Care Act's Individual Mandate, decided to vote with the four more moderate-to-liberal justices (
Ruth Bader Ginsberg
;
Stephen Breyer
, whom I enjoy hearing lecture, his sing-songy voice like a lullaby;
Sonia Sotomayor
, whose visage makes me smile with pleasure that she was Obama's first SCOTUS pick; and
Elena Kagan
) to uphold nearly all the provisions of the law, which he affirmed as Constitutional under Congress's power to impose taxes. The only constraint was a provision, signed by 7 justices, arguing that Congress could not cancel out all federal funding to states if they refused to augment the ACA's provisions on
Medicaid
expansion. A blow against the Commerce clause, an affirmation of Congress's power to tax, a limit on federal power in relation to funding in the states, and a green light for insurance companies, hospital corporations, medical insurance providers, and all
private
businesses involved in the still-expanding health care sector.
It was also an unambiguous victory for President Obama and the Democrats, made possible by one of the least likely of agents, Roberts, and it enraged conservative idealogues, from Republican President candidate
Mitt Romney
, who implemented a very similar prototype in
Massachusetts
when he was governor there, to a number of members of the Republican Congressional Congress, who spoke in testerical flights of rhetorical about "freedom" and so forth, to Republican icons like
Sarah Palin
, who claimed that it proved the President had "lied." Of course they are all aware that Republicans had championed the "mandate" only a few years ago; Romney was captured on camera praising it in Massachusetts in 2006. The entire plan was hardly the "socialist" threat conservatives had made it out to be, hatched as it was by the
Heritage Foundation
, but in many of its provisions, it does point towards the possibility of much better, universal, affordable care of the kind that is available throughout most of the industrialized world.
Some of its provisions are excellent: no coverage denial based on pre-existing conditions; young people can stay on their parents' health care much longer; a stricter limit on profits collected as overhead from premiums; Medicare and Medicaid expansion; subsidies to buy healthcare; many incentive-based pilot programs that could be far-reachingly positive in their effects; federal deficit-lowering mechanisms; and so forth.
Single-payer
health care would be optimal, and
Medicare-for-All
or a
Public Option
would be the next best thing, but for now, the ACA does much good, despite its problems, and it is still
far better
than what existed before its enactment, which doesn't even really go into effect until 2014. (Republicans, including Romney, who was for it before he was against it, have vowed to repeal it, to deny its components funding, and, as
South Carolina
's junior Senator, the
Tea Party
epigone
Jim DeMint
urged today, simply to nullify it, as that state's politicians were fond of doing before the
US Civil War
.)
When I heard the news on
NPR
, confirmed by online sources, I felt a brief moment of elation such as I hadn't felt about this administration and Congress, and their actions, in a long time. I also felt--and I admit this is a bit sentimental, melodramatic, and ridiculous, but bear with me--a bit of that starry promise that was so palpable the night Barack Obama was elected in 2008, and I wandered among the throngs of people in downtown Chicago, in front of the
Art Institute of Chicago
and onto the periphery of
Grant Park
, and everything seemed possible, people of all backgrounds, ages, life trajectories, milled about, tears in their eyes, drums beating in their ears, awaiting the President-elect, his wife and his two daughters, knowing that we had, at least for a day, made a point about the disastrous slog of the previous eight years. So much seemed possible that night; health care and insurance reform, at least in my eyes, was one of the more pedestrian, though important, eventualities that would mark Obama's tenure. Ending the wars, prosecuting the Wall Street criminals, rolling back those budget-busting Bush tax cuts, and so much more seemed far more important.
During the campaign, Barack Obama did promise he would enact health care and insurance reform. Nearly all of his Democratic and even some of his Republican predecessors, going back to
Harry S. Truman
(Missourian!) had attempted to do so, but run up against one abatgis or another.
Lyndon Johnson
did, however, succeed with
Medicare
and
Medicaid
. But in his first term, Barack Obama and the Congressional Democrats pulled it off. It is imperfect, but it is a crucial start, and as such strikes terror into the hearts of the
Randroid
types who want to dissassemble everything and hand it over to private agents who'll benefit even more than the private agents already feasting on the ACA's promised bounty. More importantly, though, ACA, or
Obamacare
, is helping millions of people already, and will eventually cover and help many more. The UPS driver who collected my boxes told me with happiness that he was glad it was upheld; his child suffered from what most health insurance companies would consider a pre-existing condition, and because of the law she could not be denied coverage. He is one of many. He is one of us. Thank you to the President, the Congress who passed the law, and to the Supreme Court justices who bravely and rightly upheld it.
***
U.Va. PRESIDENT Teresa Sullivan (Dan Addison, U. of Virginia)
It is the case that things happen that I think could not possibly happen, which suggests that I am either still too naïve, something my father warned me about when I was young, or that I have not lost my capacity for astonishment. I'll go with the latter. What astonished me?
For starters, the abrupt, public dismissal
of
the first female president of the august University of Virginia, Teresa Sullivan
,
by a group of wealthy corporate hacks
who had, through the graces of
Virginia
's Republican governor,
Bob McDonnell
, come to dominate the
Board of Visitors
, the name for the powerful trustees who control what is still
Mr. Jefferson
's university. I spent 2 years there in the early 1990s, and I can say that it is an institution steeped in its history and traditions, distinguished academically in many disciplines, and not one in which things such as the rude, crude dismissal of presidents by secret plot happen regularly. As it turns out, the gang of however many, led by a real estate honcho named
Helen Dragas
(she was the "rector"), had two main concerns they felt Sullivan wasn't tackling swiftly enough. They wanted her to kill certain departments--like the
Classics
and
German
--to save money, and they wanted her to jump into the online teaching game, panicked as they were by the likes of
Stanford
and
MIT
(two institutions in my opinion most likely to undertake such experiments), and, it seems, not unsurprisingly,
Harvard
, in racing forward in doing so. Apparently Sullivan, being a reasonable person and grasping that a university president, especially at a major state institution, is not a dictator, did not sign off readily on either plan, and
so Dragas and her conspirators secretly planned--all documented in released emails--to oust her
, keeping their plans close to their vests until it was a
fait accompli
. They did. It was, in sum, a coup. A furore ensued. The university community protested vehemently, and Sullivan's replacement even felt shamed enough not to want the job permanently. Some members of the Board of Visitors hadn't even known about the plan until it was undertaken. But, to their credit,
they reversed themselves, and on Tuesday unanimously reinstated Sullivan.
(Why she would reassume the job knowing that vultures like the ones she dealt with were hovering around I do not know.) But good for her, good for the University of Virginia, and a tocsin for all other public universities, large and small, as well as for private ones, rich or poor.
Today the business of universities, at least in the eyes of many wealthy trustees, Randroid legislators, and many members of the public, is business
. I mean both corporatization, and an increasing emphasis on business education and business study-related thinking. No matter how outstanding a job a university has been in achieving its goals, no matter how narrow or broad its mandate, no matter how relevant the fields it emphasizes, the aim today is to mimic corporations, to corporatize every aspect of university life, to place
money
at the forefront of everything. The liberal arts, the life of the mind, the search for and creation of knowledge, the creation of community--none of it matters to those who want every institution of higher education to be ranked #1 and a carbon copy of
GE
. Look at what the state systems in
Texas
and
California
have been dealing with over the last few years. But this is a problem not just in the US; just note what
Great Britain
is doing in terms of hiking student fees, privileging wealthy students, slashing departments, forcing faculty members to fit business-developed metrics, and pushing for funding cuts to be made up, if at all, by corporations, and there is also the ongoing crisis in
Québec, Canada
, whose root issue is creeping privatization.
One irony for the UVa coup agents, as someone pointed out online today, is that the classics provide more than enough examples not just of the sort of behavior Dragas behaved in, but enough history, philosophy and literature to
explain
and
illustrate
the world we live in today, and, as regards the German department,
Germany
holds the fate of
Europe
, and thus the globe, in its hands. Of course irony is a key component of literature, a field many of the pro-business types are hostile too. Lost on them is too kind a word. But best wishes to President Sullivan, and goodspead to all in her position all over the country and globe.
***
The
2012 London Olympics
will be upon us soon enough. I can't wait. So to will the
Major League All Star
game. The
All England Club Wimbledon Tennis
tournament, which I used to watch avidly, is also occurring now. And the
British Open Golf
tournament, at a suitably scraggly course, will happen in short order. (The
NBA Finals
are over, and the
Miami Heat
won, 4-1, which gladdened me because the
Oklahoma City Thunder
's owners are rabidly anti-gay. Also, it redeemed
LeBron James
in the eyes of some; I'm all for him, so I was glad he brought home a crown to go with his predictions in prior years.)
But--I have been peeping the
Euro 2012
soccer tournament. I wasn't really paying attention, and then one night I was in one of those extremely affordable pizza joint-cum-bars that you find in European countries, and saw
England
playing
Sweden
, I think, and England came back and won the match 3-2, the restaurant patrons erupted with cheers, I found myself drawn in, and now I eager to see who wins between the finalists,
Spain
and
Italy
, two countries particularly down on their luck these days but good enough as soccer powers to push the other top teams out of the way.
In the ex-colonial powers match-up, Spain defeated
Portugal
in the semifinals on penalty kicks, while the ex-fascists semifinal entailed Italy sending
Germany
packing 2-1, on 2 goals by the fro-hawked
Mario Balotelli
. The Spain-Portugal game from the snippet I saw was like watching a chalkboard dry, while Balotelli gave the latter game a jolt with his second, game-winning goal, on a crossing pass from
Riccardo Montolivo
, which he fired into the upper right corner of the goal from a distance. He promptly stripped off his shirt to display three blue (
Gli Azzuri!
) blue stripes on his muscular back, which led to a penalty. Drama! I want to see the final. Either team gets my vote. Go
PIGS*
! (Portugal-Italy-Greece-Spain!)
An update:
UEFA
, the organizer of the Euro 2012 tournament,
has fined Spain €20,000
over its fans' racist chants against Mario Balotelli during their Group C clash. (Russia was fined €30,000 for its fans' monkey chants against the Czech Republic player
Theodor Gebre Selassie
, whose family originally is from
Ethiopia
. Russia's tournament fine total now tallies €225,000.) Balotelli has repeatedly been the target of racist invective, including during Italy's June 14th match against Croatia, which led UEFA to impose a sanction of €80,000 on that nation. I am hoping the Spanish fans choose
not
to resort to form during the final game. If so, go Italy!
Spain's Pique challenges Portugal's Nani during their Euro 2012 semi-final soccer match at Donbass Arena in Donetsk. DARREN STAPLES/REUTERS
Spain's goalkeeper Casillas makes a save next to team mate Iniesta and Portugal's Nani during their Euro 2012 semi-final soccer match at the Donbass Arena in Donetsk. ALESSANDRO BIANCHI/REUTERS
Spain's Pique scores a goal against Portugal's goalkeeper Patricio during penalty shoot-out at their Euro 2012 semi-final soccer match at Donbass Arena in Donetsk. DARREN STAPLES/REUTERS
German midfielder Sami Khedira (3dR) vies with Italian opponents during the Euro 2012 football championships semifinal match at the National Stadium in Warsaw.
GIUSEPPE CACACE / AFP/GETTY IMAGES
Italy's Mario Balotelli scores the first goal.
Matthias Schrader / AP
Mario Balotelli flexing his muscles after his second goal.