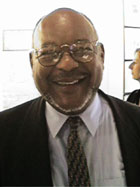 Kynaston McShine
at the Art Show,
the 7th Reg. Armory
1997 (artnet.com)
(b. 1935) is one of the most important but least known and unheralded curators of his generation, and one of the very few black people to play such a key role in the development of contemporary art and curatorial discourse and practice, particularly at elite American and international institutions, during this era. His 1970 landmark show,
"Information" at New York's Museum of Modern Art (MoMa)
, is widely considered to be the first survey of conceptual art by a major American museum, it crossed disciplines, was interactive, and represented a critical and curatorial protest (at one of
the
most elite of art institutions) against the then-raging
Vietnam War
. It gathered 100 artists, among them now legendary figures such as
Hans Haacke
,
Vito Acconci, Robert Smithson, On Kawara
, and
Ed Ruscha
. I thought I ought to post this entry after listening to a
MoMa
podcast in which scholars discussed two other noted past curators
Dorothy Miller
and
Frank O'Hara
, yet my searching their online offerings brought no discussion of McShine, and then I realized he didn't even have a
Wikipedia
entry.
Kynaston (1963, by Alex Katz)
A native of
Trinidad
, McShine graduated from the
Queen's Royal College
(the oldest secondary school in Trinidad and Tobago, located in the capital,
Port of Spain
) and
Dartmouth College
(AB in philosophy, 1958). He later undertook graduate work at the
University of Michigan
and
New York University's Institute of Fine Arts
. McShine has taught art history at
Hunter College, CUNY
and
The School of the Visual Arts
. He has received honorary degrees from the
San Francisco Institute of the Arts
and
The University of the West Indies
. Over the years he has edited and published numerous catalogues.
McShine has spent nearly his career at MoMa, which he joined in 1959 as a member of its Department of Circulating Exhibitions. In 1965, however, he joined the
Jewish Museum in New York
as a curator, going on to serve as its acting director from 1967-68. McShine returned to MoMa in 1968 as associate curator, was named curator in 1971, and in 1980, he became senior curator in MoMa's Department of Painting and Sculpture, a position he served in until 2001, when he became
Acting Chief Curator of the department
. In 2003, he was named Chief Curator at Large.
At the Jewish Museum, he organized several important shows, including
Primary Structures: Younger British and American Sculpture
(1966) and
Yves Klein
(1967). At MoMa McShine has curated a slew of that institution's most important and high-profile shows of the last 40 years, including
Information
(1970);
Ways of Looking
(1971);
Marcel Duchamp
(1973, with
Ann d'Harnoncourt
, who later became the director and CEO of the
Philadelphia Museum of Art
);
The Natural Paradise: Painting in America, 1800-1950
(1976, an exhibit that coincided with the Bicentennial celebrations across the country);
Joseph Cornell
(1980);
Berlinart 1961-1987
(1987);
Andy Warhol: A Retrospective
(1989);
The Museum as Muse, The Artists Reflect
(1999),
Edvard Munch: Beyond the Scream
(2006), and
Richard Serra at MoMa
(2007, with Lynne Cooke, of the Dia Foundation for the Arts). In 1971, McShine initiated MoMa's
Projects
series, which focused on works by younger experimental artists.
Clara Weyergraf-Serra and Kynaston
McShine (DPC/NYSD.com)
McShine's exhibits for MoMa's Department of Circulating Exhibits include
Josef Albers: Homage to the Square
(1964);
American Collages
(1965);
Four American Sculptors
(1965);
New Media: New Methods
(1969); and
Color As Language
(1975). In 1988, he coordinated the New York exhibition of
Anselm Kiefer,
a show jointly organized by MoMa, the
Art Institute of Chicago
and Philadelphia Museum of Art. As far as I can tell, McShine has never organized a show devoted primarily to black, Caribbean or African-American arts or artists of at all, though a number have appeared in the broader surveys he has curated (I am thinking of
Fred Wilson
's work, for example, in The Museum as Muse, for example), and artists of color have numbered among the participants in the
Projects
series. [UPDATE: McShine did curate solo shows featuring the work of
Sam Gilliam
and
Rafael Ferrer
; perhaps there were other solo shows featuring artists of color as well.)
In one of the pieces I link to above, an article in
The Economist
, the writer describes McShine as "discreet." I would love someday (he's 72 [76?], so I suppose I should get on it) to interview him, and discuss his background, life and career, his deep interests in the art of his time and his central, publicly un(der)acknowledged role in bringing that art to critical and public consciousness. Perhaps an interview of this sort already exists; I just haven't seen it. Then, where to publish it?
Also: there's this
kynastonmcshine
, in the UK. I wonder if he knows about and has given his blessing to them?