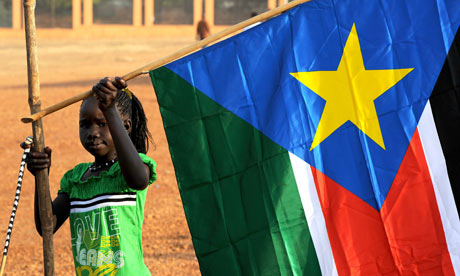 A girl holds a South Sudan flag with stripes symbolising the people, their blood and the land. Photograph: Ho/Reuters
After decades of war,
South Sudan
is now an independent country
! It broke away from
Sudan
, has its new capital at
Juba
, and its new president is
Salva Kiir
.
Eight facts about the new Republic of South Sudan.
Congratulations!
Elizabeth Ann Bloomer Warren Ford
, better known as
Betty Ford
(1918-2011), the wife of late 38th president (1974-77),
Gerald Ford
(1913-2006), has passed away. She was
more progressive on many issues
, such as
equal rights for women
and
abortion rights
, than her husband, and probably would have made a better president than either he or his predecessor.
A certain
Nobel Laureate
economist thinks the President (OK, quickly, did we elect a Republican in 2008, just asking?)
is really off track
. Said economic genius
ain't
alone
....
Television is truly imaginatively bankrupt:
TNT is resurrecting Dallas
, a program appropriate to its era, for a new generation of viewers. Why not, say,
Tent/Car City California
, or
Orlando: Foreclosureville,
or, if a show must be set in
Texas
,
San Antonio
? Oh, I know, those would require...IMAGINATION.
The situation
grows worse and worse regarding the hacking scandal
at
Rupert Murdoch's News International
soon-to-be-nonexistent newspaper
The News of the World
.
Its former editor,
Conservative-Liberal Democratic
former minister
Andy Coulson, has been arrested
.
The
NFL lockout
, in which the very rich owners are locking out the very rich players, who belong to a union,
continues, as the US 8th Circuit Court of Appeals
refuses to overturn the lockout. The
NBA
is also
locking out its players
. The assault on organized labor continues apace, even in its upper reaches.
The
MLB All Star Game
takes place next week, in
Arizona
. It should either have been canceled or moved rather than be played in a state with overtly racist anti-immigration laws, especially considering how many immigrant players fill the league's rosters and its stadiums. As a result, this is one of the first years in many that I can recall in which I did not cast a single vote for any of the players, though if I had, the
New York Mets' José Reyes
would have been at the top of my list, and I'm no fan of the Mets. (Sorry,
Albert Pujols
...).
+++
Every year I include on my undergraduate fiction workshop reading list at least one story by
Anton Chekhov
(1860-1904), who, as I need not tell any reader of this blog, I'm sure, was an exceptional playwright and one of the greatest short story writers
ever.
His influence flows through many a current of short and even longer fiction of the last century, and he is a writer whose gifts for characterization, scene-setting, tone, stylistic fluidity, varieties of irony, thematic openness and ambivalence, and narrative concision, displayed in all his mature works, offer a lesson any writer can learn from. As I once mentioned to one of my advanced fiction writing classes, the basic argument in
Francine Prose
's
Reading Like a Writer: A Guide for People Who Love Books and For Those Who Want to Write Them
(HarperCollins, 2006)
is, if all else fails, read and learn from Chekhov. The late
Roberto Bolaño
says as much (read and learn from Chekhov or
Raymond Carver
) in one entry I glanced at in
Between Parentheses, New Direction
's (June 2011) new book of his collected prose.
The current online
New York Review of Books
offers excerpts from a new book,
Memories of Chekhov,
edited by
Peter Sekirin
(Mcfarland and Co. Inc. Publishing), featuring memories of Chekhov by his peers, some of them, like
Ivan Bunin
(1870-1953), received the
Nobel Prize in Literature
in 1933. (Chekhov likely did not live long enough to merit consideration, though had he survived a few more decades, he ought to have been a leading candidate.)
Below is Bunin's excerpt; there are many more
at the NYRB site
:
I got to know Chekhov in Moscow at the end of 1895. I remember a few specifically Chekhovian phrases that he often said to me back then.

"Do you write? Do you write a lot?" he asked me one day.

I told him, "Actually, I don't write all that much."


"That's a pity," he told me in a rather gloomy, sad voice which was not typical of him. "You should not have idle hands, you should always be working. All your life."


And then, without any discernible connection, he added, "It seems to me that when you write a short story, you have to cut off both the beginning and the end. We writers do most of our lying in those spaces. You must write shorter, to make it as short as possible."
Sometimes Chekhov would tell me about Tolstoy: "I admire him greatly. What I admire the most in him is that he despises us all; all writers. Perhaps a more accurate description is that he treats us, other writers, as completely empty space. You could argue that from time to time, he praises Maupassant, or Kuprin, or Semenov, or myself. But why does he praise us? It is simple: it's because he looks at us as if we were children. Our short stories, or even our novels, all are child's play in comparison with his works. However, Shakespeare… For him, the reason is different. Shakespeare irritates him because he is a grown-up writer, and does not write in the way that Tolstoy does."