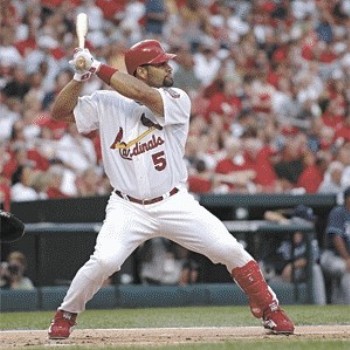 It's officially Opening Day for the 2009 baseball season (the first game was played yesterday), and my ardor has cooled. Perhaps it's age or my mind on a different trip for a change or mental exhaustion, who knows, but I figure it'll gin up again after a weeks. Across the media spectrum the
Yankees
' and
Mets
' new taxpayer subsidized stadiums appear to be generating the major hubbub, when outrage should be the response for these millionaire-stacked teams that could both have afforded to finance out of their own deep pockets these new temples of commerce, but I bet that's far more humbug than any fans, especially supporters of the Yankees and Mets, want to hear now that the roid-reduced pastime is beginning again. Instead, it's now more about whether some team other than the two in New York, or the powerhouse in Boston, or these confounding and constantly underrated Florida squads will dominate. Or will this be the
Chicago Cubs
' year? Phantoms of failure aside, they do have one of the most solid squads in the National League. For me, it's always about the St. Louis Cardinals, first and foremost. They still have
Albert Pujols
(above,
chrisoleary.com
) and a reconstituted
Chris Carpenter
, but the rest of the team is a collection of question marks. (And strangely, in this day of increasingly diverse and global staffs, of global baseball, more monochrome than anytime since the early 1960s.) If the Cardinals emerge anywhere above the middle of their division, and overperform as they did last year, it'll be a miracle. I am hoping for a Bailout Series:
Detroit
's young team returns to the post-season to face the
Mets
. Autos against the capital of the diminished world: not likely, but it would be almost poetic.
***
At the
Associate Writing Programs (AWP)
conferences, I sort of lose my mind when I enter the book fair and always walk away with more books than I originally intend. One year it took me weeks to realize how many books I'd actually purchased (though my wallet knew right away), and I don't think I've finished reading all of them. This year I was much more restrained, and tried to select books judiciously, focusing on smaller presses, chapbooks, pamphlets, or works by authors I knew who were there to sign them. One book I picked up was
Mónica de la Torre
's
Public Domain
(Roof Books, 2008). I first encountered her work in several different literary journals after having heard about her repeatedly from friends who were poets or taught poetry, then I heard her read from her fantastic earlier book
Talk Shows
(linked at right), at an AWP panel last year in New York. Of my 2009 AWP haul, de la Torre's book is the only one I've managed to read twice, because between the brutal quarter and committee-related reading, I couldn't manage a single other book, of poetry, fiction or nonfiction more than once. But de la Torre's new book did beckon me more than once, perhaps because of its lively engagement with the boundaries between the oral and literary, the material and the virtual, the private and the public, the true and truthy/fictional, information and knowledge, Spanish/English/somebordertongue, those spaces and places of slippage where selves generated by and in language do and don't map onto each other.
A number of these poems do what other poets' poems are attempting to do in terms of relating to our contemporary technologically mediated social conditions, but do so in (to my eye) unexpected and often funny ways. This is a seriously funny, sometimes hilarious book. I'm not sure that like it more than her earlier book, but I have thought about it quite a bit since I've read it. Among its contents are an open-form found-text playlet on the Iraq War, several performance pieces, a email-form poem based mistaken identities, poems about mis- and dis-articulation, a multipage poem about economy (financial, political, linguistic) and the opening suite of poems, "The Crush," that play with several ideas, including lists, lyrics, overheard language, echoes and clichés, desire and notions of the romantic, distortion and noise, and the Babel-like technopolis through which the globe increasingly moves. I kept thinking about
Tan Lin
's book of found autobiography and how selves are constructed through and in virtuality as I read this section. It's hard to excerpt anything from the book, but here's one short poem from "The Crush" section, an almost ridiculous-seeming sound poem that ends up doing something else by its end. (Here's
an essay she wrote
on OuLiPo for Poets.org.)
Letters Are What Is in a Name
Tea, yes.
Meat + yams
+ yeast=
Yum.
Sake, más yum.
My Eye,
yé-yé.
My key: task.
Say sky.
Maya skate team,
yay!
¡Ey! ¿Amas?
¿Y tu kama?
Me matas,
me atas.
Súmate.
Tu suma, tema y meta.
My yute tee,
me yuky.
Muy musky.
Sema.
Tame yaks meet meek tusks.
Eye may meat my tusk.
Eye may meet my task.
As a.k.a. Mask.
Ay!
Lists are what they tell you to begin with if you want to be on top of things.
Copyright © 2008, from
Public Domain
, by Mónica de la Torre, Roof Books, all rights reserved.