Ray Nagin reelected
As has been widely reported,
incumbent

New Orleans

mayor

Ray Nagin

was reelected last night
, by a margin of 52.3% to 47.7%, over
Louisiana
's Lieutenant Governor and political heir
Mitch Landrieu
. Nagin had been trailing Landrieu in several polls leading up to the ballot, and there were many questions, particularly
after a series of comments he made earlier this year
, about whether he would or even could receive enough support from white voters to replace the lost votes of New Orleans's large and displaced black population, more than 180,000 of whom still have not returned to the city.
With the win, Nagin will be poised to continue the difficult work of rebuilding the city, particularly the still devastated
Lower Ninth Ward
, whose neighborhoods suffered some of the worst damage during
Hurricane Katrina
. I sincerely hope he's up to the tasks and makes the most of this second opportunity. A former Republican and business executive, Nagin moved leftward after the tragedy of the hurricane and its aftermath, and he'll need to draw on all of his charm and connections, from across the political spectrum, to get the reconstruction monies promised to the city and state; I cannot think of anyone who doesn't want to see New Orleans once again vibrant and a cultural capital rather than the ghostly theme park that it's become.
Gilbert Sorrentino RIP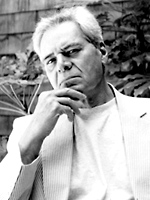 Scanning the obits as I'm wont to do, I came across a small death notice today mentioning that author, artist and editor
Gilbert Sorrentino
had passed away this past Thursday. For nearly 40 years, Sorrentino was one of the leading figures in American experimental prose. The Brooklyn native and military veteran began publishing avant-garde literary journals and magazines shortly after graduating from college in the 1950s and early 1960s. He then served as an editor at
Barney Rosset
's
Grove Press
, where he worked on Alex Haley's
The Autobiography of Malcolm X
. In 1966, he published his own debut novel,
The Sky Changes
, which was the first of almost 20 books of poetry, fiction, nonfiction and dramatic literature, including
Mulligan Stew
(his most commercially successful novel, and a masterpiece),
Imaginative Qualities of Actual Things, Splendide-Hôtel, Aberration of Starlight
(one of his best and my favorite),
Blue Pastoral,
The Orangery
(poems), and
Lunar Follies
.
After leaving Grove in 1970, Sorrentino taught at
Stanford
for more than two decades, and received considerable acclaim for his innovations, which included interpolating the discourse of criticism into his novelistic idioms and a carnivalesque manipulation of genres and forms. An atypical usage of autobiographical materials and emphasis on working-class characters marked many of his novels, as did his profound, humanistic sense of humor. In addition to a
Guggenheim Fellowship
, he received the
Lannan Foundation
's Literary Award in 1992 and its Lifetime Achievement Award last year.
Many of Sorrentino's novels are available as reissues from
Dalkey Archive Press.
Jacket Magazine
's April 2006 Sorrentino feature, with critical essays and tributes,
is here
.
Alex Lawrence
's interview with Sorrentino is
available here
.
Michael Silverblatt
's 2004 conversation with Sorrentino, as well as a clip of Sorrentino reading, is available on the
Lannan Foundation's site, here
.
Barry Bonds Ties Ruth

So it finally happened:
San Francisco Giant
outfielder and alleged steroid user
Barry Bonds
hit his 714th home run, tying MLB icon
Babe Ruth
's lifetime total, in a game against the
Oakland As
in Oakland's stadium.
Major League Baseball
has hypocritically decided that it won't honor Bonds, who's now second only to Hall of Fame near-deity
Hank Aaron
in lifetime home runs (
755
), and whose career and achievements lie under the cloud generated by the Balco steroids scandal. The sports media labeled him a malcontent years ago and many of its members have pretty much dismissed every accomplishment of his over the last few years, though his record-breaking 73-home run season even silenced them for a minute. This year opposing fans are again throwing debris at Bonds when he's taking the field in opposing teams' parks, and
some opposing players have publicly derided or scorned him
, though there's no conclusive proof he knowingly used steroids (though the signs point that way), and he certainly wasn't the only steroid user (star
Baltimore Oriole
player
Rafael Palmeiro
tested positive last season, after having testified before a Congressional committee that he'd never used drugs!).
To me the larger issue to me is major league baseball's lackadaisical attitude, for blatantly economic reasons, for years concerning the (rampant?) use and abuse of steroids. One of the players MLB promoted heavily years ago, former
Cardinal
Mark McGwire
, admitted to using androstenedione, a steroid that was later banned, and other supplements, and
New York Yankee
outfielder
Jason Giambi
has openly admitted that he took steroids to bulk up and boost his home run tallies. Other players like home run driller
Sammy Sosa
, have been singled out as well, and the late former player
Ken Caminiti
not only was abusing steroids, but illicit drugs as well. Baseball kept silent for years, even as rumors and proof surfaced about steroid use, but it was content to look the other way while the homers kept flying out of its ersatz-vintage parks and fans kept packing in, buying league-approved merchandise, and allowing its (chemically assisted-)larger than life stars to become their heroes and shape their dreams. Now that the issue of steroid use and abuse is part of the public discourse and meddlesome politicians have decided to get involved, Bonds is being treated as a scapegoat. In a sense, weren't they following the logic and economics of their profession? Also contributing to the enmity towards him is his bad history with the media and, I think, the basic fact that he's a black man. Would the media's beloved "Big Mac" McGwire, had his body held up and were he approaching Ruth's total, have encountered the same opprobrium? I doubt it. (Aaron, a personable enough player, received racist death threats leading up to and on the very day he broke Ruth's record.) Will he provoke the same brouhaha as he nears Aaron's record? I wonder.