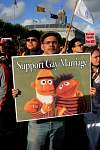 Tonight, the
California State Assembly
, following the California Senate's lead last week,
became the first state legislature in the United States
to pass a bill permitting same-sex marriage. The bill passed by a 41-35 tally, with no Republican support. It now goes to California Governor Arnold Schwarzenegger,
who Direland reports will probably veto it
. Considered to be one of the leading pro-gay Republicans, Schwarzenegger has previously stated that unlike most Republicans he would rather have the courts decide the legality of the issue. (Is that because Democrats control both houses of the legislature?) The Golden State's highest court is doing just that as it looks at Proposition 22, which mandated that marriage can only be between a man and a woman. I don't know enough about California's state constitution to say whether legislated statutes trump a referendum-imposed law, if the Supreme Court were to uphold it, but this is an historic legislative act, no matter
how you feel about marriage as an institution
or gay marriage in particular, and if Schwarzenegger signs it, will reframe the political struggle around this issue for years to come.
Not only is California the most populous state in the country (it has more people than Canada, Australia or Spain, with an economy larger than France's), but it has frequently been a cultural and social trendsetter (along with Massachusetts, the only other state that approves same-sex marriage). If Schwarzenegger signs the gay marriage bill into law, I could very well see New York State or another one of the New England states (Rhode Island? Maine?) soon following in California's steps. New York's highest court, the Court of Appeals, is currently reviewing the legality of same-sex marriage right now, I believe.
The
Washington Post
and
New York Times
offer their takes on the vote.
***
Bahia
is one of Brazil's oldest and largest states, and traditionally has been one of its most conservative. Its captivating capital city, Salvador, not only served as the first headquarters of Portugal's New World empire from 1549-1763 and as one its major slave ports for several centuries, but also was where the oldest, continuous human and LGBT rights organization in Brazil was born. This summer marked the
25th anniversary of the Grupo Gay da Bahia (GGB)
. Scholar, activist and visionary
Dr. Luiz R. B. Mott
(in photo at right, courtesy of Marccelus Bragg) established GGB in 1980, and the organization has grown to become one of the leading engines of societal awareness, opennesss and change not only in Bahia but across the conservative, poor northeastern region and across Brazil in general. Mott's partner,
Marcelo Cerqueira
(in photo at left), now heads GGB, and he has played a key role in GGB's ongoing activism, in its pride celebrations, and in developing LGBT organizations in smaller cities and towns throughout Bahia. (
I conducted an interview with him that appeared here months ago.
) Here's to wishing GGB a Happy 25th Anniversary and many more years of leadership and success!
***
If religion, according to Marx and Engels, is the opiate of the masses, then professional sports are one of several reliable narcotics. They do make me trip at times, and I've been on a little high as I've watched tennis player and most-beautiful-man-on-the-tour
James Blake
, who was facing an array of personal disasters last year (a broken vertebra; the death of his father from stomach cancer; a case of facially-paralyzing zoster),
play his way into the quarterfinals
of
US Open Tennis Championships
for a matchup against future Hall of Famer
Andre Agassi
. Blake defeated the 2nd seed, Capri-pants sporting Spanish phenom Rafael Nadal, and then knocked off another talented young Spaniard, Tommy Robredo, to become only the third Black male player to get this far. The other two were 1968 champion and sports icon Arthur Ashe, and Rodney Harmon, in 1982. Now Blake must defeat Agassi, the sentimental choice, to reach the semis, and if he goes all the way, he could face defending champion and current powerhouse Roger Federer of Switzerland.
The
Williams sisters
weren't in top form during this tournament, and especially not when they faced each other this past weekend. Aloof and cygnine
Venus
won their matchup, but less through brilliant player than through her sister's Serena collapse. Having won her third Wimbledon just a month ago, Venus seemed set to get all the way and win her third US Open title, but found herself dispatched from Flushing Meadows tonight after
falling apart against Belgian Kim Clijsters
, who won 4-6, 7-5, 6-2. Clijsters goes on to face the current darling of the women's tour, Russian Maria Sharapova. With Venus out, I'm hoping that Amélie Mauresmo, the young, out French lesbian, can win her first major. She'll have to get past Lindsay Davenport and maybe Sharapova (I am too lazy to check the seeds!), though.
The
St. Louis Cardinals
are still in first place in their division, with a record of
88-51
, which is the best record in baseball right now. Though they've lost a major piston in their winning machine, third baseman Scott Rolen, to a season-ending shoulder injury, the Redbirds have continued to win.
They have one of the best pitching staffs in the majors, paced by the league's only 20-game winner so far,
Chris Carpenter
, who's leading or near the top of several statistical categories, and who's the presumptive favorite for the Cy Young Award. On the offensive side, the Cardinals have counted on the steady production of
MVP candidate
Albert Pujols
, who continues to dazzle, with a .336 average, 36 home runs, 112 runs and 103 runs batted in. Their weak points include a sub-filled lineup (though rookies
Abraham Núñez
,
John Rodriguez
, and
Yadier Molina
have all played above expectations), the declining skills of future Hall of Famer
Larry Walker
, and inconsistency since the All Star Game from starting pitchers
Matt Morris
and
Jason Marquis
(who has an astounding .342 batting average). The Cardinals still have the talent, and I hope determination, to redeem their dismal play in last year's World Series, when the champion Red Sox walloped them badly. Can they do it? I hope so.
***
Finally, returning to the New Orleans (whose St. Louis Cathedral is pictured at left) theme, this is a poem I wrote years ago that mentions the city. It's based on a family story, and mentions the first Black U.S. Senator,
Hiram R. Revels
(1822-1901) of Mississippi, who took his seat during the Reconstruction period (1870-1871). Before becoming a politician, he was a minister and social activist, taught school in various places, including St. Louis, and raised one of the Civil War's Black regiments there in 1863. (I met his granddaughter earlier this year in Chicago; she's an elderly woman now, and a major collector of Black art.)

LETTER TO MY SISTER (St. Charles, Mo., 1885)

Today falls in a curtain of rain my determination can barely part.
My Heart, the Missouri once again pounds towards the great Muddy,
the county is shifting again beneath our feet. I just gave

ma pétite

Anna
a licorice stick to quiet her, its sweetness bleeds black across her lips.

Oh, the pains come and go, aggravated by weather such as we're having
now, no snow yet but these days that still into a blur of ice. My good husband knows
his Indian remedies, though, keeping busy around here even on the coldest days,
taking odd jobs, such as repairing clocks or paving walks, with the better of the Lutheran families.

Things had been well. Then yesterday while passing the general store
halfway to town, I was dreaming of

Maman

and wandered in through the front door.
I paid for some flour and rising powder, having awoken with the taste
of her pound cake on my tongue. Madame B. clucked, said nothing, counted

my coins, passed back my sack. No change. As I thanked her, it made me think


things may be improving for our people

, until I noticed her hands, my own, blanched
pale as wheat flour, the gallery of crueler, blanker stares. Un-noosing my shawl I flew—
my face cold as a white lady's—hoisting my petticoat so they could not see the tears.

My Heart, I hope you are prospering in New Orleans. How are your girls, your Creole husband?
Please send word to your poor

soeur

more often. My boys are robust as steamboat stokers,
your older niece is courting a coachman from the city. We keep the farm and homestead running
such as we can, for our Good Lord sustains us, despite the neighbors and our Democratic governor.

Often I think about how years ago your friend, that wordsmith who became our first Negro
Senator, set up his academy in a boat on the Mississippi, just a stone's throw off the levee
over in Saint Louis. With God's grace he taught those few children to recite their prayers, arithmetic,
geography, even the capitals of foreign states, how to spell and craft Father Abraham's English.

For true I used to wonder why he risked it all, despite the threats of bullets, fires, no money,
and then the answer rose as clear in me as dawn: he tried, as we labor on, My Heart, so that some day
every one of our children, like the currents of the greatest rivers, can keep rolling as they set this all down.

Copyright © John Keene, 1995, 2005.