A few years back
I posted about MDI compressed-air automobile technology
,
developed by Guy Negre in France
, which seemed to me to be an option that US automakers in Detroit or elsewhere might consider investing in. The ongoing problems with US automaking, symbolized at the time by the faltering
Chrysler-Daimler Benz
deal, were central in my mind. One of the articles
I'd linked to said that Indian auto powerhouse, Tata Motors
, had leapt on the technology and was going to start producing compressed-air models later that year. Three years later, it doesn't appear as though Tata has gotten that far with the compressed-air technology, but it has produced the least expensive car on earth ($2,500 US), the
Nano
, which it'll begin selling over here very soon. The
Christian Science Monitor
writes that Tata is finalizing a European model, which will require changes to the system's engine to meet the EU's much higher auto-emission standards, and is said to be "tinkering" with its US version. The images remind me of some of the tiny cars C and I saw in Sicily and have seen in other parts of Europe. The price, which is expected to come in at about $8,000 US for the EU and US models, would beat the best current offerings on the market, and I'd love to test one out. I also wonder how well they'd sell in the US, where size, safety, and comfort are paramount. Hitting one of the Evanston or Chicago Sheridan Road potholes might twist the tiny car's axles like a pretzel, and the snow and heavy rains in many parts of the country would also pose a challenge. But I'm excited about seeing one of these in the metal, and even taking one for a spin. Just not on Sheridan Road.
***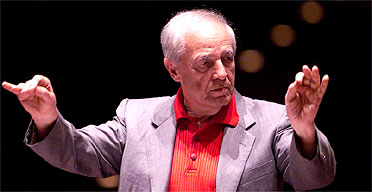 L'enfant terrible est actuellement un vieillard sage.
Or so you could say about a true bad boy of the 1950s era,
Pierre Boulez
(at right, Guardian.co.uk), who infamously proclaimed in an obituary he wrote, with both glee and spite, that
Arnold Schoenberg
was "dead," by which he meant, among other things, that Daddy was in the ground and the kids now had control of the joint. But Schoenberg's ghost shouldn't have worried, because Boulez shed even fewer tears over the demise of
Igor Stravinsky
,
Leos Janacek
, and some of the other major early 20th century avant-garde figures. Boulez, and the great experimenters of his generation, had surpassed them and the music establishment in general. Only a few of these forebears, including Schoenberg's pupil,
Anton Webern
, and Boulez's former teacher,
Olivier Messaien
, offered a way forward. Eventually even some of Boulez's peers, like
John Cage
, had to be cast aside. Or at least that's one reading of the narrative of
le jeune polemeciste
Boulez, who is now known across the globe for his sensitive conducting of Schoenberg, Stravinsky, Debussy, Ravel, Janacek, and other modernist composers. Heis also a highly respected composer, essayist and memoirist, and institutional founder. As in establishmentarian.
Michael Kimmelman explores the contemporary Boulez in a recent
New York Times
piece, "
Boulez's Gentler Roar
," which discusses the now 84-year-old composer's visit to New York's
Carnegie Hall
to conduct works by Schoenberg,
Mahler
, Webern, and himself, with the
Vienna Philharmonic
. What Kimmelman gets at, as
Andrew Clements and Tom Service did a few years ago in the Guardian Online
, is Boulez's somewhat mellower approach to everything, including the music he had imagined himself and his generation superseding. He also touches upon how aspects of Boulez's vision, in such matters as his approach to the
New York Philharmonic
's programming and self-presentation, was ahead of its time. Instead of a figure to be feared, a "Don Corleone" as one critic put it, these days he's beloved by his students at the
Lucerne Festival Academy
. Yet he doesn't apologize for his combative approach or his embrace of the new. Quoting Boulez in Kimmelman's piece:
"I like virtuosity, although not for the sake of virtuosity but because it's dangerous," was Mr. Boulez's description of "Répons" when we sat down to talk for a few hours after the rehearsal. By danger he meant that music, to be worth anything — which is to say to be new — can't stick to safe ground but must entail some risk and effort.

"If you want to have a more interesting life, you will make some effort," is how he put it. "It's about the organization of one's life. I am still shocked that so many people are not more creative, by which I mean more demanding of themselves.

"The main question we need to ask ourselves is: Do I try to be necessary to the evolution of language? Do I try to be original? And being original means using the tools necessary to be original, not just having the desire to be original."


That was part of his criticism of Cage, who was, admitted, creating or finding the tools, which many others then adopted and ran with. In fact it might be apt to say that in many cases, in many works, the process was as important for Cage as the outcome. (Think, for example, of
4'33".
) This wasn't enough for the mathematically trained, severely doctrinaire Boulez, but from Kimmelman's article, it appears that perhaps he might not be
so
rigid about such things these days. I wonder if that will include finally coming out too?
If you haven't checked out
iLike
, which features musical artists of every type, including Pierre Boulez, in a simple to view and understand audio snippet-and-purchase format, I recommend it. iTunes, watch out!
***
Coming up very soon, a real treat for New Yorkers:
Cave Canem
and Kundiman-affiliated poets will be reading together, at Cave Canem's new home in Brooklyn. From CC:
Cave Canem and Kundiman invite you to an evening of outstanding poetry in Cave Canem's new loft, featuring Regie Cabico, Jacqueline Jones LaMon, Tan Lin and Mendi Obadike.


www.cavecanempoets.org
Cave Canem & Kundiman Poets Read
January 20, 7 pm
20 Jay Street, Suite 310-A
Brooklyn, NY

Recommended admission $5 - $10