Back to business, or classes, as it were. The new quarter started yesterday, and I'm teaching a huge lecture course, so I'll probably be blogging even more infrequently until late June (mainly, as I can already see, because I'll be answering student emails nonstop until then). But I'm going to aim to post a daily poem (by someone other than myself, of course) since this is
Poetry Month
(I'm leaving off the "national" part), and as we all know, we cannot live on bread and water and news of the Obama-Clinton battle alone. We must have POETRY. So please see below.
◊◊◊
During the break week, which involved more working than breaking or braking, I did hit the garden a little. The mild New Jersey winter, along with the saucer magnolia tree's fallen leaf-carpet, which I finally removed, preserved a number of the herbs and vegetables, so the rosemary, thyme, strawberries (regular and Alpine), African sage, and the brussel sprouts and red cabbage are all either already growing or set to return. The lavender also survived and is thriving again (lime in the soil), and the blackberry bushes, like the honeysuckle, look ready to return to full flower too. Some shoots have crept all the way underneath the lawn to where the rose bushes are. I did buy another blueberry plant, because the first one only produced a few (maybe 4?) blueberries last year, so perhaps this one will turn out to be more fruitful, and when I'm back, if I can find another fig tree, I'll try that once again.
Among the plants that are ready to blossom, the saucer magnolia has giant furry buds, the lilac bush is also budding, and the rhododendron, which has never properly flowered (though all our neighbors' do), also has gigantic buds. Only a few plants have already bloomed: in back, a few hyacinths from buds I bought at the Garfield Park Conservatory in Chicago continue to reappear, in brilliant and colorful form every year, and the crocuses in the front of the house, near the ever-shedding sycamore tree, have started to blossom and are beautiful, so I'll ask C to take some photos of those and I'll try to remember to post them.
◊◊◊
I also cleaned up my computer hard drive, and so I can no longer access many of my old digital photos, which are saved on a backup drive (at home) or on CD (at home). Why is this worth mentioning? Because last spring, I'd taken a number of photos of architect
Jean Nouvel
's arresting
Institut du Monde Arabe
(at right, imarabe.org) in Paris, a building I'd wanted to visit for years, and dragged C to when I realized we'd happened upon it. For that building and others, Nouvel has been awared the
2008 Pritzker Architecture Prize
. I was a little surprised he hadn't already received it. One building of Nouvel's that I'd like to see is the phallic
Torre Agbar
building in
Barcelona
(below,
Barcelona City Tourist Guide 2008
) which didn't exist when C and I visited there many moons ago. (But I also imagine the people have seen so many black people at this point that they also don't stare--politely--in the subway either.)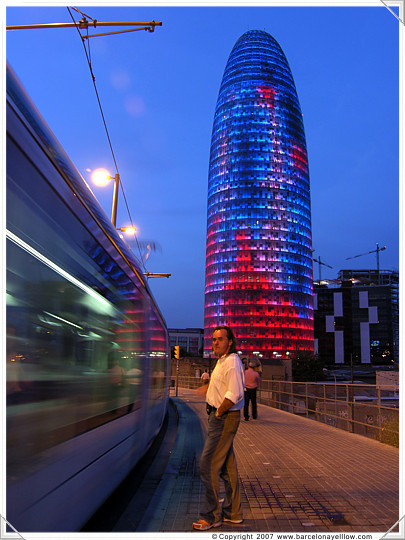 For every honor there must be a critic, and so
Witold Rybczynski
registers his dissent
at the bestowing of the prize on just one person--the architect--rather than the team of people and forces that bring buildings like the Arab World Institute into being. I take his point, though I view the Pritzker Prize as a recognition of artistic vision more than anything else. There are constellations of architects, patrons, engineers, construction workers, government and local stakeholders, and so on, that together end up throwing up hideous buildings every second (I know, they dot the landscapes of Jersey City and Chicago like impetigo), but it takes a truly extraordinary aesthetic sensibility, luck, determination, charm, guile, bravado, and nerves of tungsten to ensure that a building like the Arab World Institute will turn out as Nouvel envisioned it.
◊◊◊
From the poetry of large structures to the poetry of little books that are available by clicking on the links at left,
Seismosis
has received
a wonderful review
, as has our fellow press family member,
Shin Yu Pai
, whose Rozanova Prize-winning collection
Sightings
is a must-have.
◊◊◊
And finally, a poem, by a young Brazilian writer,
Narlan Matos Texeira
(b. 1975, at right, Jornal de Poesia) whom the outstanding poet
Tyehimba Jess
introduced me to several months ago. Narlan,
a native of the interior

Bahian

city of

Itaquara
, is a graduate of the
Federal University of Bahia
and the
University of New Mexico
, and is now studying for a doctorate in the US and has spent time as a writer-in-residence at the
University of Iowa
's prestigious International Writer's Program. His collection
No Acampamento das Sombras (In the Camp of Shadows)
received the Xerox Prize of Brazilian Literature. Narlan writes in Portuguese, but also speaks fluent English, and, I believe, Slovenian.
This is his poem "Elegy to the New World," which he says he wrote several years ago, and which was translated while he was at the University of Iowa. According to Madame K's site, it also received an award from the University of Illinois.



ELEGIA AO NOVO MUNDO



Tu me perguntas meu amigo
Onde eu estive durante meu longo silêncio
Estive na açucena das canas e na amargura dos canaviais
onde as folhas tremiam de medo dos homens
Os canaviais me sussuraram em gritos horrendos
o sangue amargo que lhe adocicou a boca
As mãos ásperas que lhe enxugaram a face
O canavial que morria de fome antes de completer 27 anos de idade
Das vozes sem estrela que embalavam ao longe línguas estranhas
Ó canavial verde, de que cor é meu sangue vermelho ?
Meu sangue tem medo da morte do açoite da noite
Meu sangue tem medo de mim
Tu me perguntas meu amigo
Onde eu estive durante meu longo silêncio

       Eu estive nos navios negreiros mercantes

que mercaram meu destino até a América até agora

       beberam minhas lendas como se bebe um barril de rum podre
       mercaram cada estrela do céu e do mar infinito
       cada pássaro cada pluma de meu cocar
       e desenharam mapas com meu sangue
       e ergueram totens sobre minha tribo
       e atearam fogo nos campos sagrados do meu povo
       e suas lanças me repartiram as veias em continentes distantes

Tu me perguntas meu amigo
Onde eu estive durante meu longo silêncio

       Estive pelas escumas dos mares nunca d'antes
       Por onde vieram a pólvora a baioneta o espelho a tuberculose a siflis
       Por onde vieram a espada e o elmo
-           As nuvens jamais se esquecerão disso !

No atlântico negro
Nos tombadilhos de velhos navios piratas
Nos cababouços da crueldade humana
Nas prisões da Serra Leoa – que ainda doem em alguma dobra do meu corpo
Em Angola
Na Guiné-Bissau
No Senegal
No Benin

Estive no reino da Guatemala
E na provincia de Yucatán
E na provincia de Cartagena de las  Indias
E nos grandes reinos e grande provincia do Peru
E no novo reino de Granada
E nas ilhas de Cuba e Trinidad
E nos reino dos Aztecas
Onde espadas de brutalidade fenderam meu corpo nu
Onde os cães de caça dos barões das índias se alimentavam dos braços e das pernas de crianças indefesas

Tu me perguntas onde eu estive meu amigo
E somente agora posso quebrar meu silêncio:
Eu estive comigo.




ELEGY TO THE NEW WORLD



You ask me, my companion
Where had I been during my long silence

I was in the sweetness of the sugarcane and in the bitterness of the sugar cane   plantation
Where the leaves trembled of fear of mankind

The sugar cane plantation whispered in violent screaming
  The sweet blood that has sweetened its mouth
The stern hands that dried its physiognomy
The sugar cane plantation that died of malnourishment before the age of 30
The voices without stars that rocked it to the distance strange languages
Oh, green plantation! What color is the wine in my blood?
My blood is scared of death of the whipping of the night
My blood is scared of me

You ask me, my companion
Where had I been during my long silence

I was in the merchant ships
   That traded my destiny to the Americas
Drank the legends of my people just like a barrel of rotten rum
Traded every star in the sky and in the infinite sea
Each bird each feather in my cockade
And drew maps with my blood
And erected totems over my tribe
And set fire in the sacred fields of my people
And their lances split my veins into different continents

You ask me, my companion
Where had I been during my long silence

I was by the foam of the seas never sailed
From where gun powder bayonet mirror tuberculosis and syphilis came
From where the sword and the elm came
- The clouds will never forget that!

In the black Atlantic
In the calaboose of old pirate ships
In the calaboose of human degradation
In the prisons of Sierra Leona – which still ache somewhere in my body
In Angola
In Guinea Bissau
In Senegal
In Benin

I was in Guatemala
And in the Yucatan Province
And in the Cartagena de las Indias Province
And in the Great Kingdom and Great Province of Peru
And in the New Kingdom of Granada
And in the Islands of Trinidad
And in the Kingdom of the Aztecs
Where swords of gold and mud split my naked soul
Where the hunting dogs of the barons of the Indies were fed with arms and legs of native children

You ask me, my companion
Where had I been and only now I can break my silence:
I was with myself.

Copyright © Narlan Matos Teixeira, 2003, 2008.